Self Defence Course |Females Only | Duration 12 Weeks (Suspended Until Further Notice)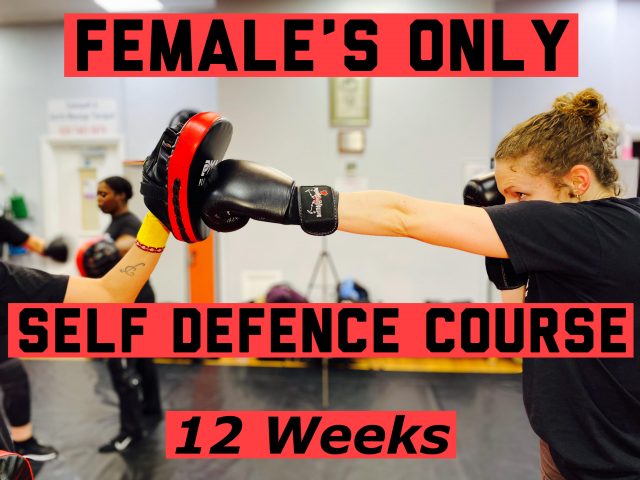 Key Points
Improve Self Confidence
Increase fitness, stamina and flexibility
Ways to avoid being attacked
Maintaining a strong body language
A new circle of friends through training with like minded people
Location:  Bank – 71 Lombard St – EC3V 9AY
Time:  12-1pm
Minimum age requirements:  17 Years
Ensure you can commit for the duration of 12 weeks as bookings are non refundable/non Transferrable

The first session count will start from the first class you attend

Attendance will be logged weekly to help keep track and you can access it via our online app
ENROL TODAY – £195.00 (Starting Any Saturday)
Our females only Program is designed to help prepare females for the challenges the streets of London may hold on a daily basis.
We aim to work towards a more confident you, enabling you to leave the office late at night or maybe the late night bus home with confidence.
Our course is not another fitness regime, we offer combination of things… this range from fitness, loosing weight but most importantly learning a new life skill in defending yourself.
Our highly trained team is here to assist you every step of the way.  (Even tho its a woman's only course, you will have both Male and Females instructors leading the training)
Enrolment taking place for this upcoming Saturday for the duration of 12 weeks.
Upon completing you will receive a participation certificate from us. (All 12 weeks needs to be attended to qualify) If you wish to continue your training afterwards you can enrol for the regular monthly membership.
My aim with the Women's programme is to help our female club members to build confidence, get fit and to gain skills to keep them safe if they find themselves in an unfortunate situation. If you are a woman thinking about training in Krav Maga, come and join our Women's programme, you will be made to feel welcome from the moment you walk through the door. Jane Nicols
I really wanted to train in Krav Maga to build my self confidence but I was unsure about joining the mixed groups, so I started out with the Women's Only Programme. I have been training for 3 months now, and it is fantastic! I have learnt so much and met so many new friends. I have now started training with the mixed groups as well… she has taken me to a whole new level! Laura Saunders
Want a quick start ?
Take a trial class and get free gifts too!